Expanded Media Exhibition
Expanded Media Exhibition
Media in Space & Network Culture Competition
Artistic works from the competitions Media in Space and Network Culture are on display, which includes cross-border formats such as performance, installation, Expanded Cinema and net art like interactive web or social web projects or interventions at public and virtual spaces.
Opening hours
Expanded Media Exhibition at Kunstbezirk
Thu 16.01.20 17:00–18:30
Fri 17.01.20 14:00–19:00
Sat 18.01.20 14:00–19:00
Sun 19.01.20 14:00–18:30
Mon 20.01.20 closed (Individual guided tours for groups on request)
Tue 21.01.20 15:00–21:00
Exhibition and supporting programme – Admission free
Guided tours
Thu 16.01.20 17:00 (Opening with guided tour through the exhibition)
Fri 17.01.20 14:00
Sat 18.01.20 14:00
Sun 19.01.20 14:00
Guided tour for families with Sara Dahme
Sun 20.01.20 15:45
Individual guided tours for groups
Please contact:
marcus.kohlbach@wand5.de
Meeting point for guided tours: Kunstbezirk Information Counter
Events
Tue 21.01.20 19:00–21:00
Performance Tryouts IX
Students at ABK Stuttgart (performance–module Cindy Cordt) will perform in the spaces between artworks during opening hours at the Expanded Media Exhibition on one evening.
Media in Space Competition

Bystander
Bystander is an interactive film installation that allows the audiences to step into the shoes of a traumatized girl being abused in childhood. In her adulthood, she is suffering from Posttraumatic stress disorder (PTSD), depersonalization disorder, social anxiety, and depression. Go through layers of gauze projected with her fragmented memories; the audiences can immerse in the bizarre inner world of the girl through a creative interactive system.
Erinnerungslücken/ Innere Sicherheit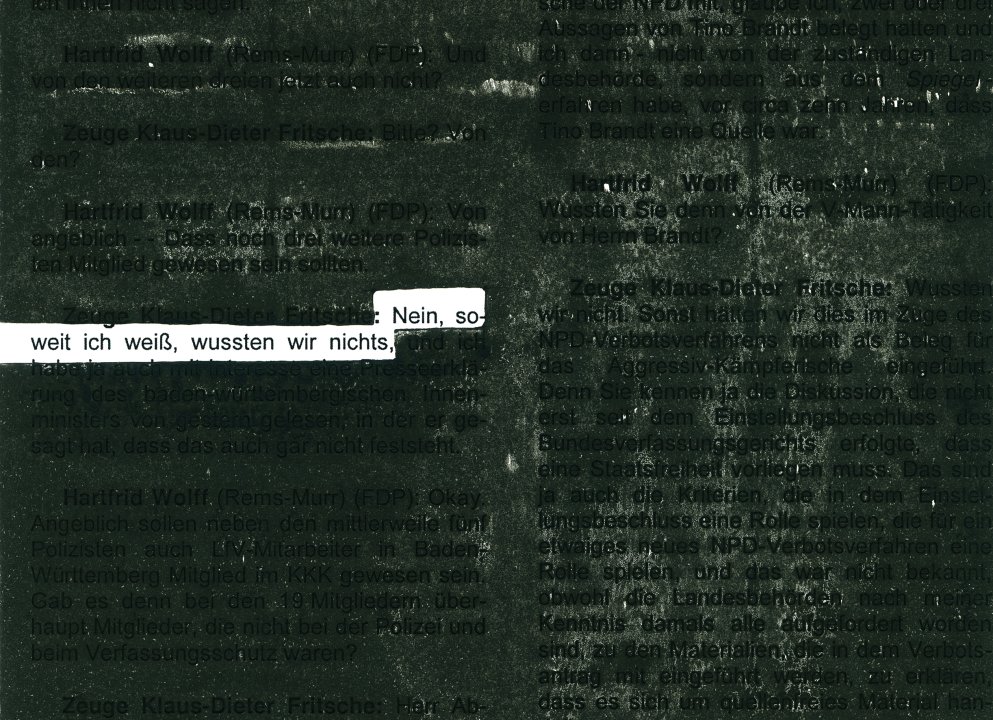 The memory gaps are part of the project Personnel Survey/Homeland Security. The printed excerpts from protocol texts of the first committee of inquiry of the German Bundestag to the NSU have been blackened. Only the passages where the witnesses are expressing their lack of memory remain readable. Linguistic stylistic blossoms, driven by attempt to avoid concrete statements, coming along with the blackening, induce different political associations. In the video tumbling hanging folders roll by, like in a chain carousel.
Real Performance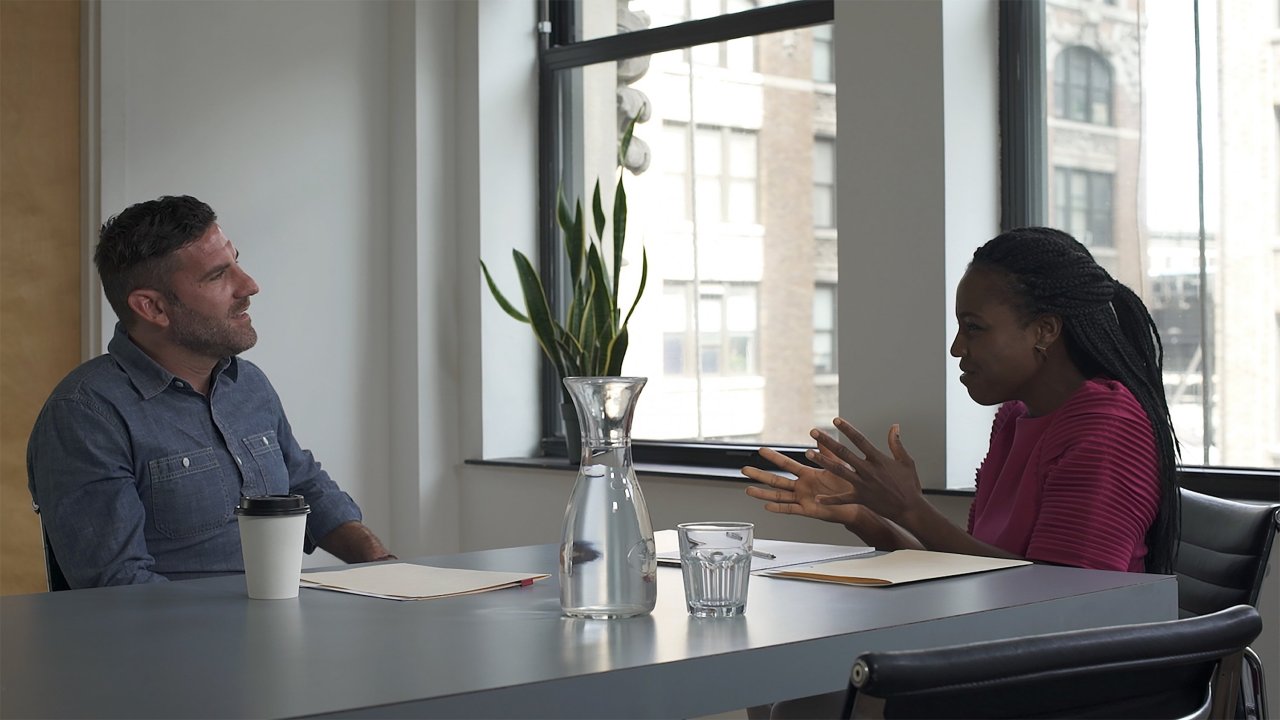 Real Performance stages a repetition exercise in a contemporary shared office space. The exercise is designed to teach actors to build authenticity, with the expression of spontaneous real emotion as the goal of each new performance. In the video, the exercise is pushed beyond its normal time constraints, forcing the two actors beyond the controlled limits of
their training. At regular intervals, a series of lines selected from management textbooks are incorporated into the otherwise improvised exercise. In highlighting the language of emotional
leadership, Real Performance visualizes the distance between two ideas of empathy: as a method of extracting value from labour and as an intense and transformative force that can produce an alternative kind of space, conjured in plain sight, spontaneously available to anyone as resistance to instrumentalisation.
All Possible Futures: Quantum Flux I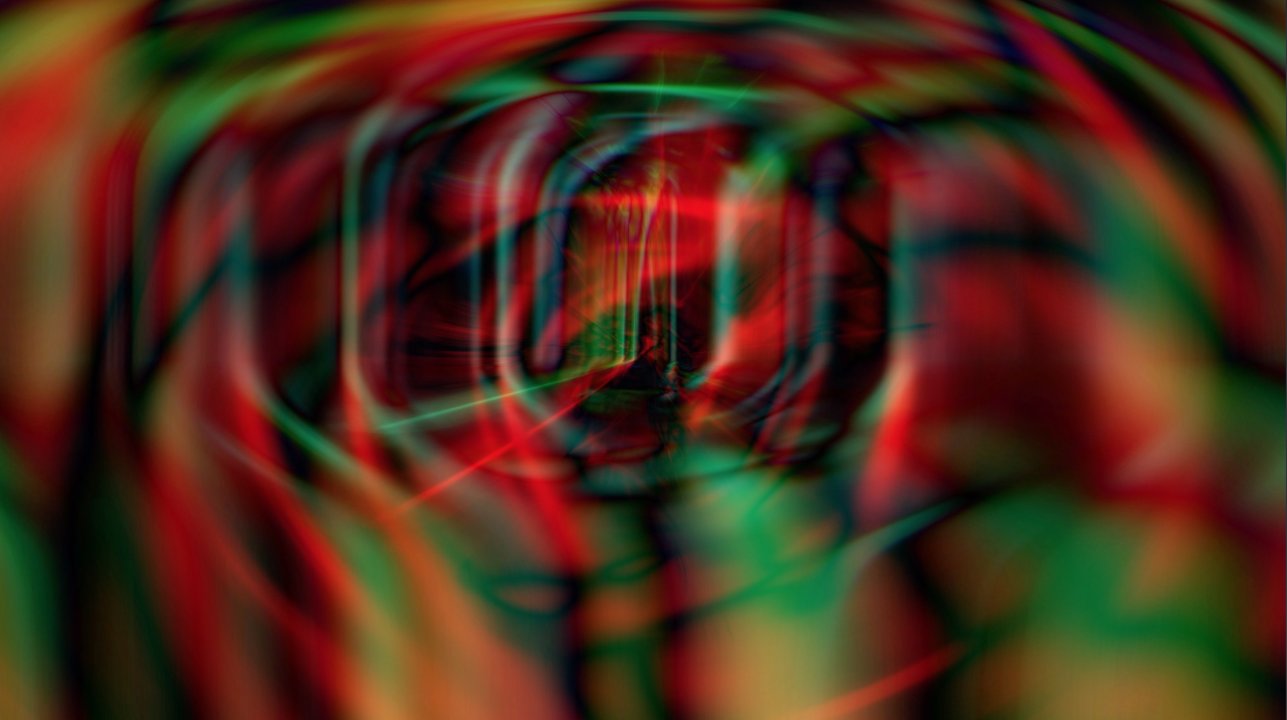 All Possible Futures: Quantum Flux I is a hypnotic audiovisual experience and artistic data visualisation that acts like a portal to the quantum universe. In the quantum realm (subatomic realm) the Aristotelian logic of true and false, yes and no becomes very fuzzy. One taps into an ocean of potentialities and possibilities, analogous to Alice in Wonderland. To realise the video the artist tapped into a random number of live data stream derived from a tabletop laser experiment with entangled photons, and channeled this data across the internet into a custommade software application.
They Came Together to Perform Heroic Gestures (in the manner that was meaningful to them)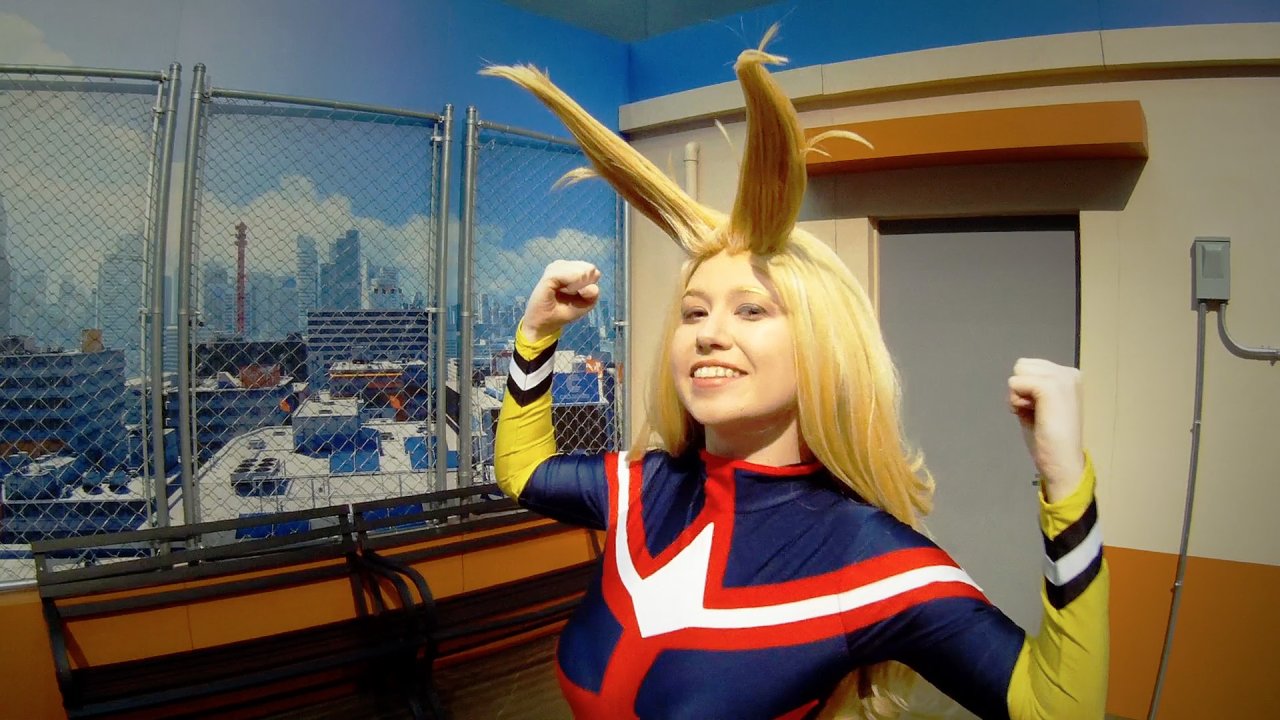 This stereoscopic 3D video piece juxtaposes two pastimes – political protest and cosplay – in order to examine the intersection of political action and performative fan culture. Assuming the
figure of a culturally constructed avatar (reproduced and reinforced through digital media) and immersing in tribal affiliation with a community, a collective, a "scene", the participant reifies an ideal of power and righteousness.
Network Culture Competition
Pictures of Jap Girls in Synthesis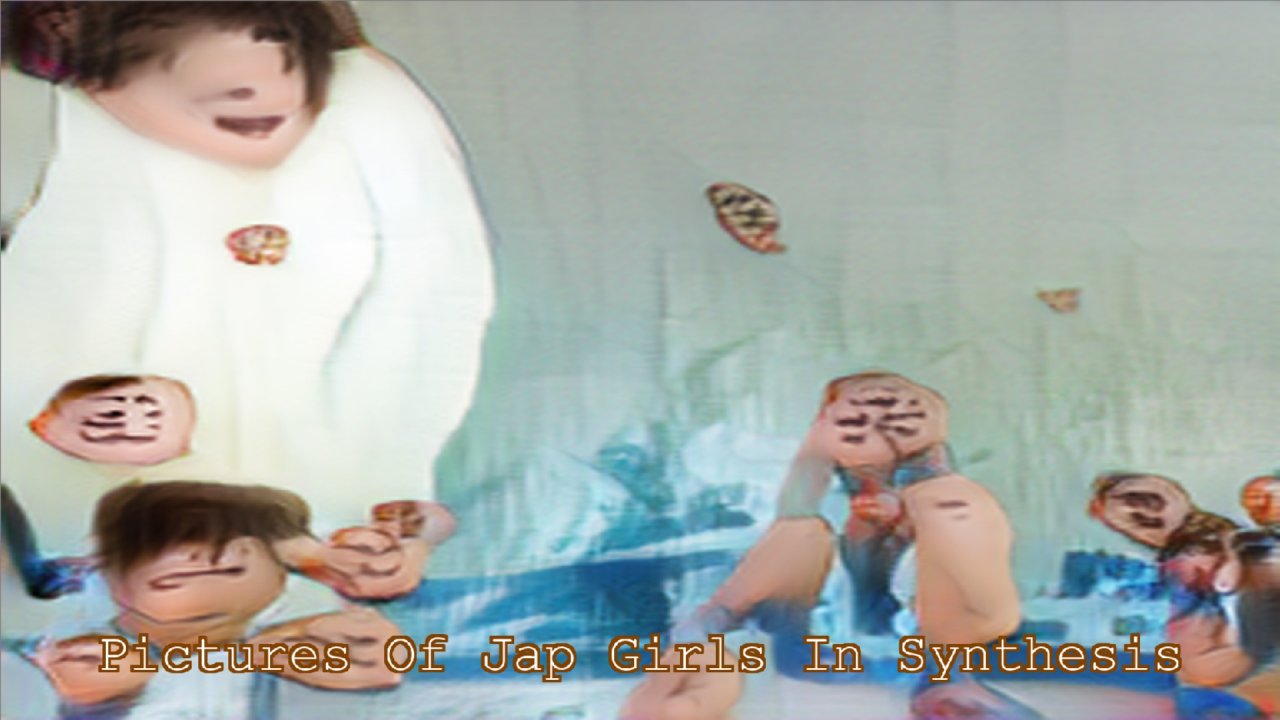 Pictures of Jap Girls is a machine that creates live, visual poetry. The machine reads or listens to poetry in a variety of languages. A neural network synthesizes in real-time visual
images illustrating its understanding and interpretation of the text. While the results are far from photorealistic, we get images of surrealistic quality, containing colors, shapes, textures, patterns and objects related to the words and their context, and creating a poetic experience. Poets can perform live with the interactive installation, and have an automatic simultaneous translation of their words into visual imagery. While one may not know the Korean word for flower or the Hebrew word for emerald, a picture can be worth a thousand words in a thousand languages, allowing a synesthetic and a more universal experience.
Cryptic Life Signs from the Multiverse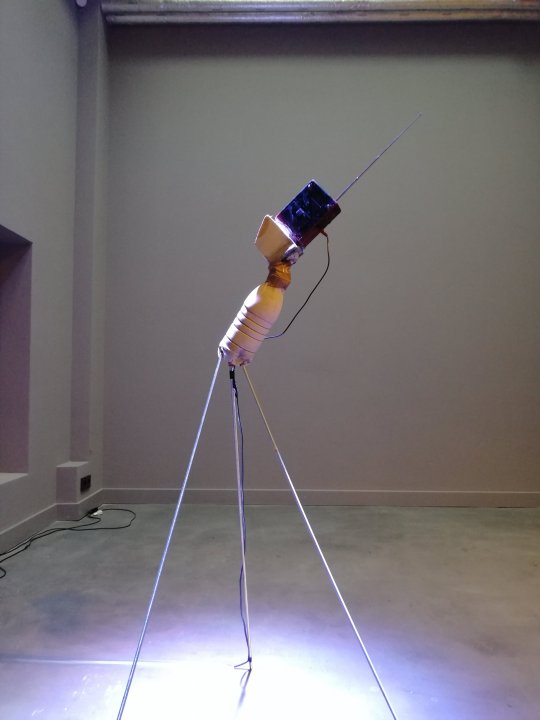 A concrete sculpture sings an infinite number of songs generated by artificial intelligence (AI). The songs are generated with an AI algorithm. The AI software has been trained with field recordings and pieces of music from the Internet that have been marked with the keywords "love, hate, life, death, ecstasy, drunkenness, euphoria". Jeron's music-making machines don't
really work any differently than any composer. First, they learn about existing styles and then create similar technical reproductions. The AI recognizes patterns in the structure of a piece – for example the chords used, the notes of a melody, repetitions or variations. Based on these patterns, the AI recreates the "logic" of a musical genre and finally creates an infinite pool of new compositions.
Operation Jane Walk

A city tour through the architecture of an online shooter game – Operation Jane Walk is based on the dystopian multiplayer shooter "Tom Clancy's: The Division". In this work, the game's digital war zone is appropriated with the help of an artistic operation. Within the rules of the game's software, the militaristic environment is being re-used for a pacifistic city tour. The urban flâneurs avoid the combats whenever possible and become peaceful tourists of a digital world, which is a detailed replica of Midtown Manhattan. While walking through the post apocalyptic city, issues such as architecture history, urbanism and the game developer's interventions into the urban fabric are being discussed.
Performance Operation Jane Walk 19.01.20, 04:00pm, FITZ! Studio
Computer with an Internet Connection


Computer with an Internet Connection is a film in continuous flux, a film that never truly exists. It is re-created every time the software we designed is run on a computer that is connected to the internet. The program uses artificial intelligence to study the frames of Dziga Vertov's seminal, experimental documentary "Man with a Movie Camera" and replaces each image with a new, mutant look-alike that was found on the streets of the internet at that moment. In Vertov's original film, an irrepressible cameraman trains his eye on the world around him, trying to understand it, to see it truthfully in a way that only cinema can. In our film, the algorithm becomes the "camera-man", the eye, searching through the labyrinths of the internet for stand-in images to tell shattered and surprising stories for our dizzying times.
To Call a Horse a Deer
指馬為鹿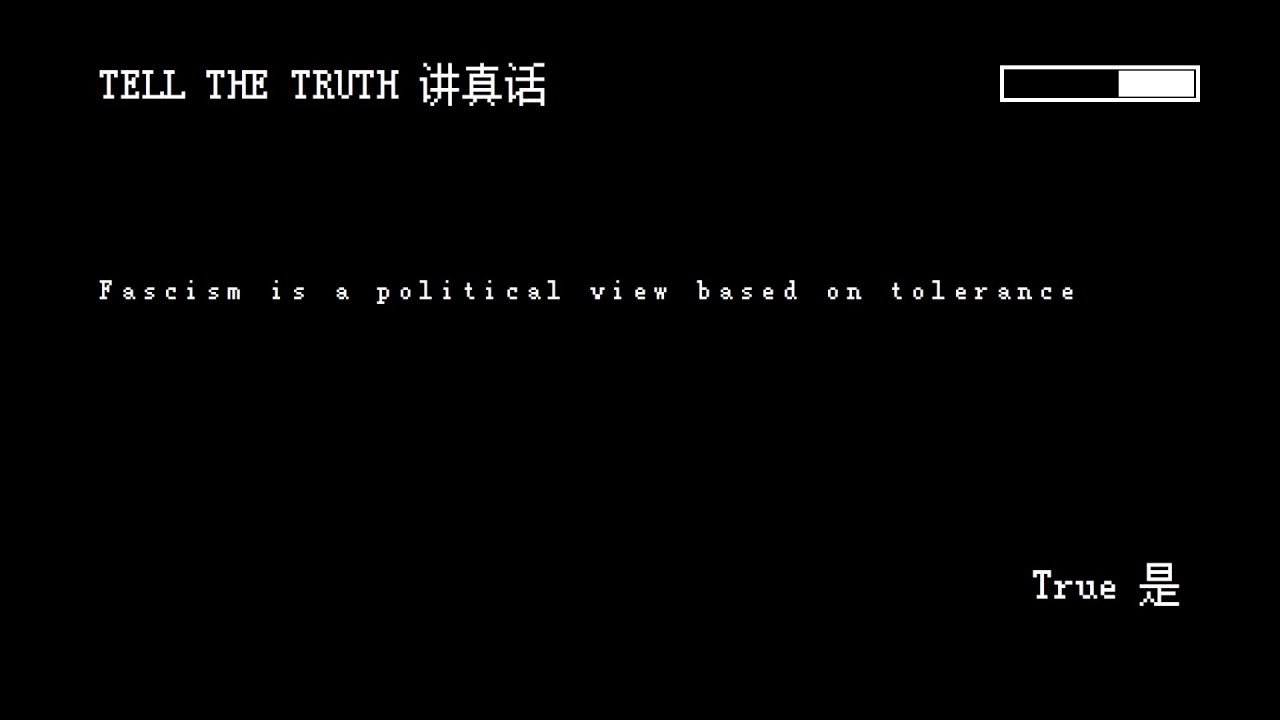 To Call a Horse a Deer is an experimental video game about language, hand-eye coordination, truth-bending and acts of complicity. The title of the work is an inversion of "to call a deer a horse", a Chinese idiom that is used to describe the deliberate act of confusing truth with untruth. The idiom originates from a story in the Chinese classical text "Shiji" (The Records of Grand Historians) in which an ambitious Qin politician tried to identify adversaries and silence dissent by colluding others to confuse a deer with a horse. This ancient tale resonates with our times in which truth-bending became an everyday political reality and tools of governance. The game, available in multiple languages, is both a mirror and a critique, a training simulator of truthbending and its resistance.